«Working in Flex is exactly what I've studied for»
Marianna Lepore
Scritto il 19 Giu 2022 in Storie
assunzione post stage buone opportunità Flex internship storie di stage
Repubblica degli Stagisti collects the stories of young employees of those companies who have joined the RdS network. Here's Anna Palumbo's, 34, Firmware Engineer in Flex.

I come from a little town near Caserta, where I was born and raised. After high school I decided to study Biomedical Engineering at University of Naples Federico II. During this period I stayed with my parents: living just 30 km from Naples allowed me to attend lessons travelling by train. I remember that I needed to wake up very early in the morning and to optimize time, I stayed at the library until late in the evening.

During those years I worked as a waitress on the weekend, with a "job on call"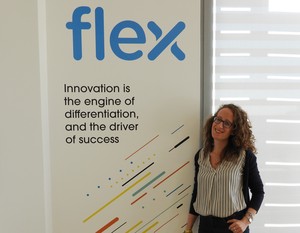 contract, but for sure what I earned was not enough to pay the university fees, so my family supported me economically and psychologically.

After my master's degree I won a scholarship with the DIETI (Department of Electronic Engineering and Information Technologies). The scholarship lasted one year, split between six months at the university and six months working at one of the companies involved in the project, ISET, in Maddaloni, a little town near Caserta. During this experience I had the opportunity to learn C programming and embedded systems, and had the chance to work on Arduino platform, programming in C, and working on a data system acquisition. Even if it's true that at university we study a lot of things and we can touch upon different topics (mechanical, electronics, software and so on), after that you need to understand what you really like, though.

It happened to me, too. When the scholarship was over, I realised that I was passionate about programming, so I decided to move to Piacenza where my brother and his family already were living and tried to find a job there as a FW/SW Engineer. I sent a lot of CVs and I did a lot of job interviews. After three months, I received Flex's proposal. I remember that one afternoon I had in my hands both Flex's internship proposal and a permanent contract of another company, and I had a choice to make. I decided to accept the "challenge" with Flex, because Flex in Milan specializes in the design and development of medical devices and I studied for doing exactly this job: design, develop and create from scratch medical devices which can improve people's lives. I have been working in Flex for six years now, as a Firmware Engineer. And I never regretted that decision.

The internship started on June 2015 and ended in December. Then I had a one year contract through Randstad. My first day at Flex is still vivid in my mind. I remember that all people I met said hello to me, even though I'd never met them before. My tutor and my manager showed me around the office in Milan, where I saw a lots of devices and machines used for testing them. I felt amazed about starting this new adventure, which meant a new job, a new house and new friends. After just one week, I moved to Milan where I found a room in a house with a flatmate; the rent was 500 euros a month.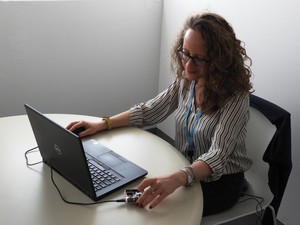 Living in Milan is outstanding: I come from a little town and so living in Milan gives me a lot of possibilities, not only in terms of job opportunities, but also in terms of hobbies and free time. Milan is an international city and if you want you can make a lot of experiences.

At Flex I'm now a Senior Firmware Engineer: in this role, I design devices, defining their software architecture, determining which software requirements they shall satisfy and describing the design specifications. I work on microcontrollers, and after having clear in mind how the design looks like, we start to implement it, coding in C programming. For sure, this is just one part of my job: I also have weekly calls with the customer where we discuss about the project status and timeline. Moreover, I have regular brainstorming meetings with my colleagues of the mechanical, electronical and industrial design departments to find solutions together to technical design issues. Of course, now I have a permanent contract. After the internship, Flex proposed me a contract for one year and after it a permanent one: my salary, now, is a little bit over 30k.

Two years ago, the Covid pandemic started, and I remember that I took home, in Milan, all the things necessary for working. At first I thought that in one month we would have returned to office. But we know that's not what happened. At the moment, Flex gives us the possibility to work some days at office and others in smart-working. It's a good compromise, I think, because some day smart working is really helpful, for example when it snows, or there is a lot of traffic, but it's important also to spend time with colleagues, to share information and have a coffee together.

I studied biomedical engineering and for sure I would like to continue working in this field. In Italy there aren't many companies which enable engineers to design medical devices. I have learned a lot during these years, thanks to the team-working spirit that there is at Flex. Every time I need help because I'm stuck on an issue, I always find colleagues who help me and give me the right advice. At Flex we have the opportunity to work on different projects, so if you are a curious person, you can always learn something new.

After my master's degree I was thinking of going to Canada, with a work permit for one year. An experience abroad allows you to be open-minded and see the world from another perspective. This can be useful to cope with your daily activity as well. Unfortunately I didn't go to Canada, because I'd started the scholarship with the DIETI. Luckily, Flex gave me the possibility to travel a lot during these years: I have been to Austria, Ireland and China on business trips. Moreover, at Flex we have the opportunity to work with colleagues of other Flex sites around the word, and this is really stimulating and allows you to work in an international environment.

My experience as an intern was not so long, so I got lucky. Not everyone does: sometimes the internship is not paid enough. Living in Milan is expensive: on average a room costs 500 euro a month, so it could be very difficult for interns to sustain themselves. Internships in Flex are paid 1000 euros per month plus meal vouchers, so it's an excellent starting point! To all young people that start entering the professional world, I'd like to suggest to search a company with a team of friendly people who are willing to help and share their knowledge. In my opinion, it's very important to be always stimulated and face new challenges. So, never stop to look for the right job and place that fits your desires, needs and aspirations.

Story collected by Marianna Lepore